Puffing Billy - A Winter Rescue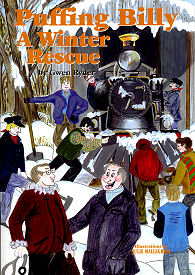 Following the success of Book One "Puffing Billy Back on the Rails" comes the second book in the Aussie Rail Tale Series Puffing Billy A Winter Escape. Maintaining the character of its best selling predecessor, this childrens story takes Puffing Billy into an Australian winter wonderland.
Illustrated in Full Colour, this 20 page softcover book contains a wonderful rail tale of Puffing Billy's family and community bonding together to save the day. One of a set of great childrens stories.